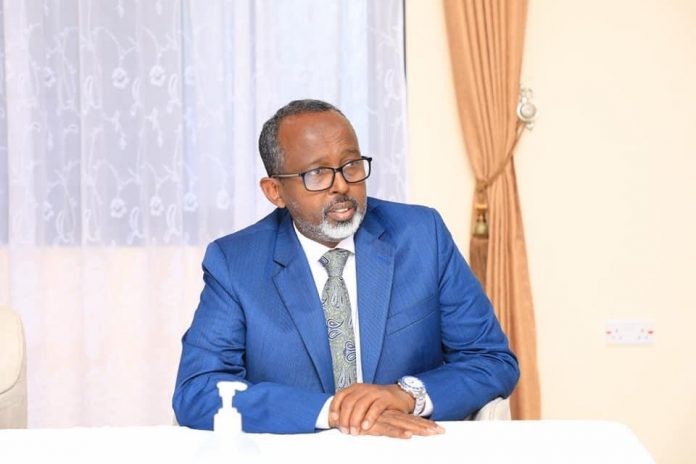 Following repeated delays, Somalia's presidential election is on the corner with dozens of candidates standing to contest for the country's top seat.
Ongoing armed conflict, insecurity, lack of state protection, and recurring humanitarian crises exposed Somali civilians to serious abuse. Al-Shabaab, the al-Qaeda-linked militant group poses the biggest security challenge.
The Somali people crave for their new president to heal the wounds of the authoritarian practices imposed on them during the past five years of Farmajo's tenure.
Mr. Dahir Mohamud Gelle, a former minister and ambassador is among the frontrunners in this year's presidential election in Somalia.
"Somalia is part of the world, and it needs to deal with the world. I want to create a mature diplomacy that wears silk gloves, that can guarantee for both Somalia and the rest of the world that they can reach their mutual interest based on win-win relations," Mr. Gelle said.
"I want to eliminate the conflicting and suspicious relationship. I want Somalia to be a stable country that pursues its interests peacefully in the world," he adds.
In April last year, armed violence has broken out in the streets of Somali capital, Mogadishu, between various sections of the security forces. That was after the incumbent Mohamed Abdullahi Farmaajo – known as Farmajo – controversially approved a
two-year extension
of his term in office. His mandate officially ended in February 2021. The move was strongly criticized by the international community including the UN and the African Union.
While most of the other presidential candidates advocated for using force to oust Farmaajo, Mr. Gelle solely campaigned for peaceful negotiations until he was nicknamed on his slogan dubbed as "Somali matters end on the table", which he meant that Somalia problems can only be solved on a negotiation table. This has attracted the concerned Somali public.
RECONCILIATION AND STABILISATION
According to Mr. Gelle, his political program prioritises 
reconciliation
and stabilising the country, eradicating the terror groups, improving the economy and the international relations, ratification of the constitution, and holding one-man one-vote elections attracts the vast majority of the Somali public.
"I come up with an internal policy that can bring Somalis closer together, which is based on reconciliation, democratisation and the elimination of terrorist groups," he notes while referring his previous experience in reconciling Somalia's warring factions in the capital.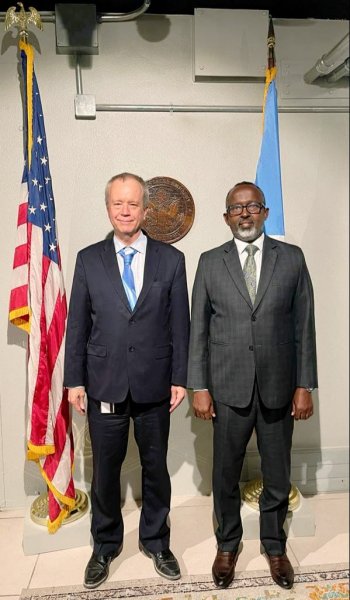 FOREIGN POLICY
Relations with key regional and world countries have soared since 2017 when Somalia decided to align with Qatar over other Gulf nations. Ties between Mogadishu and Nairobi as well as Djibouti were severely impacted by Farmaajo's rocky diplomacy.
Having served as the former Somalia ambassador to Saudi Arabia before taking over the country's information ministry, Dahir Mohamed Gelle considers a
foreign policy
based on cooperation and collaboration would be the elucidation to a stable and friendly Somalia that sits in the strategic Horn of Africa.
"I believe that it is in our best interest is to deal with the whole world in a peaceful manner. I do not agree with Farmajo's erroneous foreign policy stance," said Mr. Gelle.
"I promise to the Somali people that I will turn all the external hostile relations into zero problem. I will reverse them into cooperation and collaboration based on win-win relations. I assure you that our international relations will not be based on emotions but rather on interest," he adds.
Somalia has been torn by conflict for decades but had been moving towards stability since 2012 when a new internationally backed government was installed.
However, delayed elections following the end of President Mohamed's mandate in February have thrown the country into renewed chaos.
Some international donors have also pulled out, causing a cash crunch for the government. Somali elections are conducted under a complex indirect system where clan elders select Members of the Parliament, who in turn choose the president. presidential election is expected to take place in mid-May.
source: Horn Observer